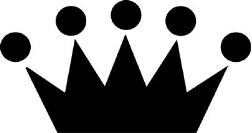 Product: Coco Butter
Size: 250gm
Unit Bar Code: 6009832381000 Shrink Qty: 6
Shrink Bar Code: 6009698031017
Item Code: CPJ1
Case Qty: 60

Product: Musk
Size: 250gm
Unit Bar Code: 6009698031024 Shrink Qty: 6
Shrink Bar Code: 6009698031031
Item Code: CPJ2
Case Qty: 60

Product: Regular (Vit E)
Size: 250gm
Unit Bar Code: 6009698031048 Shrink Qty: 6
Shrink Bar Code: 6009698031055
Item Code: CPJ3
Case Qty: 60

Product: Regular (Tea Tree)
Size: 250gm
Unit Bar Code: 6009698030027 Shrink Qty: 6
Shrink Bar Code: 6009698030034
Item Code: CPJ4
Case Qty: 60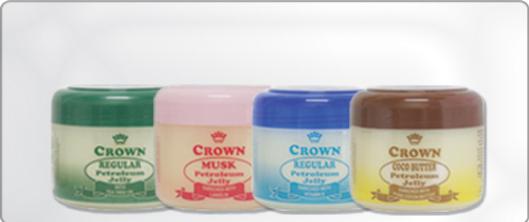 CROWN PETROLEUM JELLY
Crown Petroleum Jelly is a quality petroleum jelly and is available in 4 variants:
COCOA BUTTER: Unlike most other cosmetic companies who just perfume their petroleum with a cocoa butter fragrance, we at Mac Crown add PURE COCOA BUTTER into our formulation, as this additive is extremely helpful in removing marks, scars and skin blemishes.
MUSK: Again, unlike most other companies, we add PURE LANOLIN to our popular MUSK variant as this aids in moisturising the skin.
VITAMIN E: This REGULAR variant is enriched with Pure Vitamin E as this additive is also known for its many beneficial properties. No perfume added so it is suitable for very sensitive skin.
TEA TREE: This REGULAR variant is enricched with PURE TEA TREE OIL, which is renowned for its ANTI-FUNGAL and ANTI-BACTERIAL properties. Extremely effective to apply onto cuts and bruises.