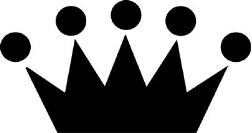 Product: Mwah Pink Nail Polish Remover
Size: 100ml
Unit Bar Code: 6009698030348 Shrink Qty: 6
Shrink Bar Code: 6009698030331
Item Code: MW501
Case Qty: 60

Product: Mwah Green Nail Polish Remover
Size: 100ml
Unit Bar Code: 6009698030355 Shrink Qty: 6
Shrink Bar Code: 6009698030331
Item Code: MW502
Case Qty: 60

Product: Mwah Yellow Nail Polish Remover
Size: 100ml
Unit Bar Code: 6009698030362 Shrink Qty: 6
Shrink Bar Code: 6009698030331
Item Code: MW503
Case Qty: 60

Product: Mwah Purple Nail Polish Remover
Size: 100ml
Unit Bar Code: 6009698030386 Shrink Qty: 6
Shrink Bar Code: 6009698030331
Item Code: MW504
Case Qty: 60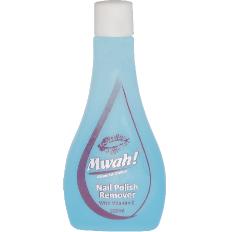 Product: Mwah Blue Nail Polish Remover
Size: 100ml
Unit Bar Code: 6009698030379 Shrink Qty: 6
Shrink Bar Code: 6009698030331
Item Code: MW505
Case Qty: 60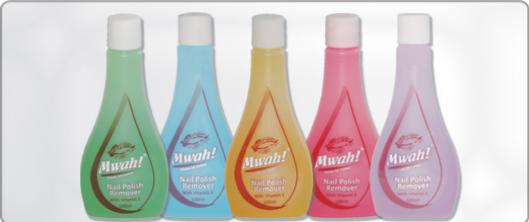 MWAH!
Kisses Of Colour
This is MAC CROWNS Colour Cosmetics brand!!
The first item in this range is a top quality Nail Polish Remover.
Available in 5 different colours and ALL enriched with Vitamin E. Vitamin E helps to strengthen the nail and this helps to prevent nails breaking and chipping. Effectively removes your old nail polish colour whilst helping to moisturise and strengthen your nails at the same time. Also helps in softening the cuticle of your nails.