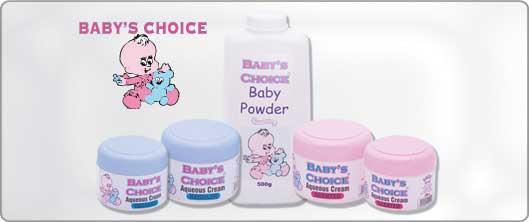 Product: Baby's Choice Aqueous Cream Regular
Size: 125g
Unit Bar Code: 60099698030744
Shrink Qty: 6
Shrink Bar Code: 6009698030782
Item Code: BC05
Case Qty: 8 Shrinks

Product: Baby's Choice Aqueous Cream Regular
Size: 250g
Unit Bar Code: 60099698030768 Shrink Qty: 6
Shrink Bar Code: 6009698030805
Item Code: BC07
Case Qty: 6 Shrinks

Product: Baby's Choice Aqueous CreamScented
Size: 125g
Unit Bar Code: 60099698030737 Shrink Qty: 6
Shrink Bar Code: 6009698030775
Item Code: BC04
Case Qty: 8 Shrinks

Product: Dermiza Pure Cocoa Butter
Size: 30g
Unit Bar Code: 6009698035008
Shrink Qty: 6
Shrink Bar Code: 6009698035015
Item Code: DCB1
Case Qty: 12 Shrinks
MAKE THE RIGHT CHOICE
Baby's Choice® Baby Powder is an ultra soft powder that keeps baby's skin soft, dry and comfortable. This luxurious powder helps prevent chaffing by absorbing excess moisture and is recommended for adult use as well.
Baby's Choice® Regular Aqueous Cream is a non fragrant cream that is ideal for sensitive skin. This beautifully light and absorbant cream leaves your skin thoroughly moisturised, soft and supple.
Baby's Choice® Scented Aqueous Cream is a beautiful light and absorbent cream that nourishes and moisturises the skin thus preventing dry flakey skin and leaves your skin soft.
Baby's Choice® products are manufactured with the finest ingredients and with great care.
MAKE THE RIGHT CHOICE - CHOOSE BABY'S CHOICE®
Product: Baby's Choice Aqueous Cream Scented
Size: 250g
Unit Bar Code: 60099698030751
Shrink Qty: 6
Shrink Bar Code: 6009698030799
Item Code: BC06
Case Qty: 6 Shrinks